Commitment to Responsible Management
Trust, quality and dynamism are the VidaCaixa values which guide the conduct of all the organisation's employees and shape the principles of conduct contained in the company's code of ethics and the agreements and memberships policy implemented by VidaCaixa.
Set out below, we explain the initiatives that "la Caixa" has promoted, and the ones that have joined or given support, for the development of its Corporate Social Responsibility.
Code of Ethics
VidaCaixa's Code of Ethics is aligned with the policies of "la Caixa" Group and our shareholder, CaixaBank, S.A.
VidaCaixa's Code of Ethics is anchored in our corporate values which define the organisation's identity and are embodied in ethical attitudes and conduct with respect to our stakeholders. The organisation's security and solvency, honest dealing and respect for people, efficiency, customer service and professionalism, speed of response and the ability to adapt to our customers' needs, together with a commitment to corporate social responsibility and environmental stewardship, are attributes that define, identify and differentiate VidaCaixa.
Each and every one of VidaCaixa's employees, managers and directors takes on this Code of Ethics as part of their duties and responsibilities, conveying our corporate values in their work.
VidaCaixa's Code of Ethics is long-lasting. As such, it is continuously improving with the experience we gain.
Main Agreements and Memberships
VidaCaixa's agreements and memberships policy is another step forward in its strategy of incorporating corporate social responsibility as a core factor in all its actions and activities.
VidaCaixa has signed up to the United Nations Global Compact, endorses the Principles for Responsible Investment (PRI), is a member of Spainsif, belongs to the business alliance for child vaccination led by the GAVI Alliance and has been awarded Family Responsible Company (EFR) certification by the MásFamilia Foundation.
United Nations Global Compact

VidaCaixa is committed to assimilating responsible management into its strategy. As a result, since 2009 the company has subscribed to the United Nations Global Compact and is pledged to observe its principles related to human rights, labour rights, the environment and the fight against corruption.
The United Nations Global Compact was launched by former UN Secretary General Kofi Annan in 1999 and is the largest corporate citizenship initiative in the world. It currently has more than 4,000 participants from 116 countries and operates as an integrated working network in which participating companies, the United Nations, sector organisations, global NGOs and international trade unions promote the Compact's objectives and principles.
Principles of the United Nations Global Compact
Businesses should support and respect the protection of internationally proclaimed human rights.
Businesses should make sure that they are not complicit in human rights abuses.
Businesses should uphold the freedom of association and the effective recognition of the right to collective bargaining.
Businesses should uphold the elimination of all forms of forced and compulsory labour.
Businesses should uphold the effective abolition of child labour.
Businesses should uphold the elimination of discrimination in respect of employment and occupation.
Businesses should support a precautionary approach to environmental challenges.
Businesses should undertake initiatives to promote greater environmental responsibility.
Businesses should encourage the development and diffusion of environmentally friendly technologies.
Businesses should work against corruption in all its forms, including extortion and bribery.
Socially Responsible Investment
Principles for Responsible Investment (PRI)

Economic profitability is not the only criterion by which VidaCaixa manages investments. It has always taken environmental, social and corporate governance (ESG) aspects into account when choosing a good investment.
In 2009, VidaCaixa's endorsement of the United Nations' Principles for Responsible Investment meant it became the first life insurer and pension plan manager in Spain to apply socially responsible investment standards to all the investments in its portfolio and incorporate social, environmental and corporate governance (ESG) aspects into managing all its investments in line with PRI.
Principles for Responsible Investment (PRI)
We will incorporate ESG issues into investment analysis and decision-making processes.
We will be active owners and incorporate ESG issues into our ownership policies and practices.
We will seek appropriate disclosure on ESG issues by the entities in which we invest.
We will promote acceptance and implementation of the Principles within the investment industry.
We will work together to enhance our effectiveness in implementing the Principles.
We will each report on our activities and progress towards implementing the Principles.
VidaCaixa has its own method and procedures endorsed by the Management Committee, which set out a process for analysing both direct investment and also investment through investment funds. The purpose of this VidaCaixa policy is to assure its customers and stakeholders in general that all its investments are responsible and comply with environmental, social and good corporate governance standards.
Use of environmental, social and corporate governance (ESG) principles in managing VidaCaixa investment funds
VidaCaixa monitors its indirect investments through investment funds by means of an evaluation questionnaire to confirm the environmental, social and corporate governance principles adhered to by the management team of each fund. Monitoring is conducted every six months and includes consolidation of securities from all investment funds to check whether the companies in which it invests meet the environmental, social and corporate governance principles upheld by VidaCaixa.
If it is found that a company does not comply with these standards, the fund manager is asked to report on the measures it will adopt to remedy the problem. The aim is to find a solution to turn the situation around through open dialogue. Usually fund managers decide to sell, but on those occasions when this is not done, VidaCaixa has opted to sell its position in the investment fund.
Use of environmental, social and corporate governance (ESG) principles in managing fixed income investments
Before carrying out direct fixed income investments in either primary or secondary markets, we check whether the issuer is on a sustainability index.
If they are, this means they comply with PRI. If they are not, we examine the information the company provides about its sustainability policies and the measures reflected in its annual report.
We also do this every six months for our existing portfolio, excluding examinations of Public Debt, Mortgage-Covered Bonds, Mortgage-Backed Securities and Supranational Agencies and Bodies due to the nature of these assets.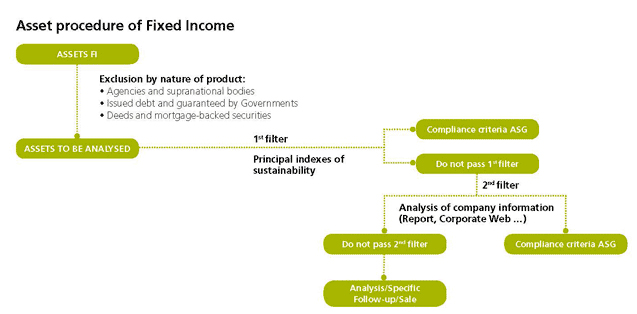 Active promotion of environmental, social and corporate governance (ESG) issues among customers, suppliers and investment managers
Based on the provisions of the PRI, VidaCaixa is committed to promoting responsible investment principles among its customers, suppliers and investment managers.
Ever since its foundation, VidaCaixa has been firmly committed to environmental, social and corporate governance issues in management and has sought to share this with its stakeholders, either in supervisory boards or through open dialogue with them. This reinforces the company's commitment and interest and demonstrates its alignment with their needs and expectations. In addition, every year VidaCaixa reports on its achievements and new challenges for enhancing the management of its investments in accordance with the criteria and standards established by the United Nations in the PRI.
Membership of Spainsif

VidaCaixa is a member of Spainsif, the Spanish forum for Socially Responsible Investment (SRI), which supports the incorporation of environmental, social and good corporate governance principles into investment policies in Spain through open dialogue with social groups.
This partnership aligns with VidaCaixa's strategy and values and its previous memberships and measures for socially responsible investment. It is also another step forward in the company's own corporate social responsibility strategy.
GAVI Alliance Membership

Since 2009 VidaCaixa has belonged to the Business Alliance for Child Vaccination, the GAVI Alliance, sponsored by "la Caixa" Foundation and whose mission is to provide access to vaccination for children living in low-income countries and to improve healthcare systems in these countries.
By doing so, VidaCaixa confirms its social commitment and allocates its annual budget for Christmas gifts to the project. It also caters to the interest shown by the "Retorn" group consisting of employee volunteers from the company which has given its support to the initiative and seeks to extend it to all staff. Furthermore, VidaCaixa Previsión Social, the Group's division for group and company business, aims to bring this important project to all the Group's business clients.
Since 2000, the GAVI Alliance has vaccinated 326 million children, preventing more than 5.5 million premature deaths according to estimates by the World Health Organisation. The initiative is the outcome of the public and private commitments established in 2000 by the main parties involved in the field of immunisation, governments, the pharmaceutical industry in developed and developing countries, the World Health Organisation (WHO), the World Bank, the Bill and Melinda Gates Foundation, NGOs and civil society in their efforts to help reduce the infant mortality rate by two thirds by 2015, in line with the guidelines set out in the United Nations' fourth Millennium Development Goal.
As a supporter of this scheme, "la Caixa" has been working together with the GAVI Alliance since 2005, and since 2008 it has been its only private partner in Spain and Europe. Hence through the Business Alliance for Child Vaccination, the institution is promoting this joint initiative and ensuring that all companies who wish to join may do the same.
More information: www.gavialliance.org
Certification as a Family Responsible Company (efr)

The Family Responsible Company (efr) model is a certification scheme promoted by the MásFamilia Foundation. It seeks to implement a management model in organisations that ensures the adoption of policies and measures that help to combine personal and working life and also favour other aspects, such as professional development, quality employment, equal opportunities and diversity management.
VidaCaixa has held this certification since 2009 and it is official recognition for the implementation of a management model which uses a continuous improvement process based on a medium- and long-term timeframe to foster a balance between company, work and family through a series of specific measures.
At VidaCaixa, efr certification is viewed as an instrument that promotes shared responsibility by achieving mutual commitment to the business plan; a commitment aimed at ensuring employment stability and quality and based on a firm pledge to its employees' professional development and growth.
VidaCaixa has about 40 measures in its plan for reconciling work and family life, including the following:
Help for children from birth to the age of 21: funding for schooling for each child aged 21 or under.
Family plan: help for disabled family members. A range of financial support is offered to help disabled relatives of employees up to the second degree to find work.
Flexible timetables: option to cut the lunch break (set at 2 hours) to one hour and offset this reduction by coming to work or leaving an hour earlier, in line with personal needs.
Compressed working day on Fridays: working hours on Fridays are compressed throughout the year to run from 8 am to 3 pm to give a total of 7 hours.
Compressed working day from June to September: from 1 June to 30 September the working day is continuous from 8 am to 3 pm, Monday to Friday.
Flexible holidays: option to take 60% of holiday time between 20 June and 15 September.
Occupational health and wellness programme (talks for staff about health and wellness): a voluntary programme open to all staff (Barcelona and Madrid) consisting of 2-3 hour sessions on issues including nutrition, heart disease, first aid, etc.
Employee health policy: health insurance exclusively for VidaCaixa employees. Employees receive cover consisting of a comprehensive healthcare policy as a social benefit paid for by the company.
Pension plan contributions: the company contributes 3% of annual basic pay as long as the employee pays in an amount equal to 1% of this annual basic pay.